Japanese company to purchase 1,200 tons of Seintalone mangoes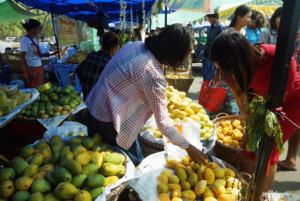 A Japanese company named YUKIOK Myanmar Co. Ltd has been signing contracts to buy 1,200 tons of Seintalone from mango growers in this season.
The YUKIOK Myanmar Co. Ltd has met with the mango-growing farmers across the country and signed contracts to purchase the mangoes, which will yield in the season of this 2019-2020 year.
The company will set the price depending on the size of the Seintalone mango. They have offered to sell the mangoes of 200 gm to 250 gm for K 450,000, 251 gm to 300 gm for K 480,000, 301 gm to 380 gm for K 630,000, 381 gm to 450 gm for K 810,000 and above 451 gm for K 900,000.
This year, the mango growers do not need to put the mangoes in the plastic bags, which will cut the labour charges and cost of plastic bags. Myanmar mangoes are primarily shipped to China. So, mango growers are now preparing to export mangoes to China market as well.
The mango growers need to grasp their opportunities by doing the right way. It can be of benefit to the Myanmar mango market. Now, the Japanese company offered to purchase the mangoes and the local mango growers should sell only the quality fruits. If their fruits are not export-quality ones.
In Myanmar mango market, Seintalone, Shwe Hin Thar, Yin Gwe and Padamyar Nga Mauk are highly demanded from foreign countries. Mango plantations cover 250,000 acres of land across Myanmar.
Source: Myanmar Times

434total visits,2visits today