Yoma Bank, Myanmar CP Livestock sign loan agreement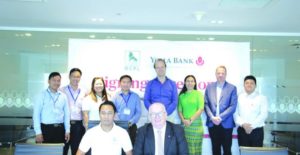 YOMA Bank, one of Myanmar's largest commercial banks, signed a loan agreement with authorized dealers of Myanmar CP Livestock (MCPL), a leading agro-industry and food business in Myanmar, on Friday, according to a press release issued by the bank. The joint agribusiness finance programme aims to facilitate livestock dealers and farmers with working capital to buy animal feed from the Myanmar CP Livestock, which is currently operating four feed mills in Yangon, Taunggyi and Mandalay, with a total capacity of around 750,000 tons per year.
This is Yoma Bank's new innovative financing for the development of local small- and medium-enterprises. With this program, individual farmers and dealers will have access to a formal financial system to grow their livestock businesses.
Under the new loan system, applicants are not required to put up any physical collateral, typically requested by banks in Myanmar, but rather earn unsecured bank credit, based on their positive track record. The agribusiness finance program ensures to develop the country's poultry sector by providing this need-based financing program for local farmers and other stakeholders, who might currently be excluded from the formal financial system.
Source- The Global New Light of Myanmar

692total visits,1visits today