Myanmar sets investment priorities for all states, regions in the country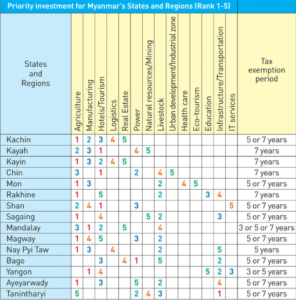 The Ministry of Investment and Foreign Economic Relations announced tax exemptions for investments in selected sectors in all 14 states and regions in Myanmar and the Nay Pyi Taw Union Territory.
The key investment sectors in Myanmar's states and regions are mainly agriculture, manufacturing and infrastructure. Now, the government is expanding the areas of investment for businesses to five priority sectors and streamlining the process in the states and regions.
The top five priority investment sectors in Yangon Region are manufacturing, infrastructure, information technology, hotel and tourism, and education services. Any investment in a promoted sector in Yangon Region qualifies for three or five years of tax exemption.
In December 2019, the International Monetary Fund said that foreign direct investment inflows as well as project approvals remain lower than in recent years as large projects have been completed and foreign investors remain cautious ahead of the 2020 elections.
Source: Myanmar Times