MoEE signs letter of intent to speed up Mee Lin Gyaing LNG power plant construction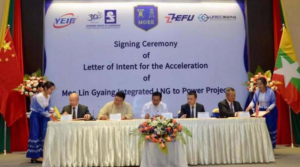 The Ministry of Electricity and Energy signed the Letter of Intent for the Acceleration of Mee Lin Gyaing Integrated LNG to Power Plant with three companies and a Myanmar company on 17 January.
The LNG power plant is based in Mee Lin Gyaing region of Shwethaungyan Township in Pathein District, Ayeyawady Region, and is the biggest one to be invested at US$2.5 billion. It will be capable of generation 1,390 Megawatts in 2023 once completed. It will be able to fulfill all electric demands of Ayeyawady Region and even distribute its electric generation to other states and regions through the National Power Grid.
The signing ceremony took place at the MoEE's headquarters in Nay Pyi Taw with the Permanent Secretary representing the ministry and inking the documents with Mr Xie Yihua, Chairman of Yunnan Provincial Energy Investment Group Co Ltd, Mr Feng Ke, CEO of Union Resources and Engineering Co Ltd, Mr Li Jie, Chief Risk Control Officer of Zhefu Holding Group Co Ltd, and U Zaw Naing Thein, CEO of the Myanmar ethnic national-owned Supreme Trading Co Ltd.The project will include the LNG power plant, an LNG terminal, a 230KV transmission line over 80 miles long and a 500KV transmission line over 130 miles long.
Source: The Global New Light of Myanmar

1541total visits,1visits today