Local-made lotus towels find market in Japan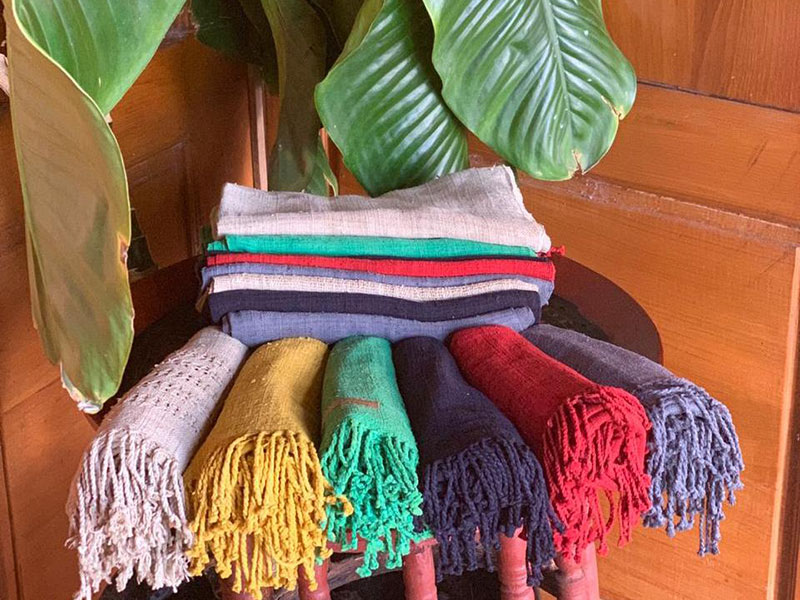 Japan is the largest buyer of towels woven with lotus thread. Pan Organic Wear is buying the thread derived by the residents from lotus stalks of the plants thriving in Soanye Inn lake near Soanye village in Kyaukse Township as raw material for the industry. The company is selling a towel woven with lotus and silk at over K 100,000 and with pure lotus at over K 400,000.
Fabrics made of lotus thread are too rare.They can cool you down in summer and warm you up in winter. Besides, they are light and easy to wash.Most Myanmar people wear the lotus towel around the next as a muffler, but foreigners typically wrap it around the waist as a longyi. Six person have to work through the difference stages of weaving for three consecutive days to produce a lotus thread towel. Unlike the imported cloths, lotus thread fabrics are rare commodity which takes time to produce one.
Pan Organic Wear is also producing longyis (man's sarong) dyed with natural agents, apart from lotus thread towels, with the strength of 20 workers. It is also producing new generation weavers, according to local sources.The company buys a viss (3.6 pounds) of lotus thread between Ks 300,000 and Ks 400,000 depending on the quality. The lotus season begin in April every year.
Source: Global New Light of Myanmar

294total visits,1visits today