Changhe Q35 comes to Yangon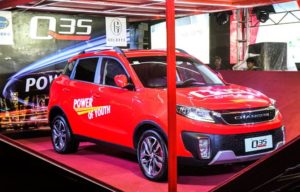 Gold AYA Motors International Co Ltd has introduced its very first compact crossover the Changhe Q35 SUV in Yangon. The launch event for this sporty car was held at the Grand Wyndham Hotel on August 2. The new Q35 is positioned as a mid-high end SUV, and appeals to those young drivers looking to impress on the roads. The sleek design and front wheel drive make it easy to maneuver in many of Myanmar's urban and rural terrain.
The unique sports SUV is semi knocked-down (SKD) model, meaning that all the cars have been imported and reassembled in Gold Aya Motors International's car plant in Mandalay. The company hopes to produce about 10,000 units each year. All parts of the Q35 are assembled in Mandalay, imported by Gold AYA imported from the Chinese BAIC Company, which also works with Mercedes and Hyundai. The official retail price for Changhe Q35 is US$21,800, which includes a three year or 60,000 kilometre warranty. The Shining Star Group of Kunming, China established Gold AYA Motors International Co Ltd, and has assembled automobiles in Myanmar since 2017.
Source: Myanmar Times 

1419total visits,4visits today