First Myanmar business environment index published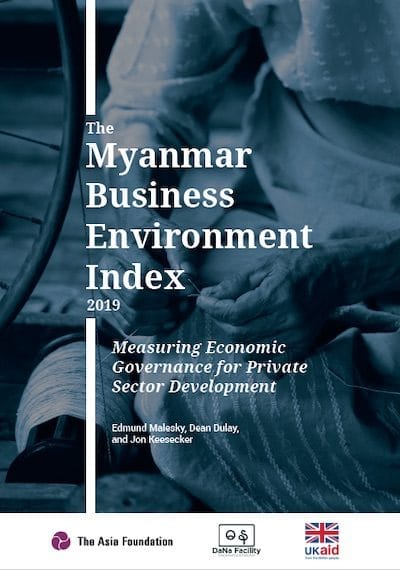 The Asia Foundation has published the Myanmar Business Environment Index 2019 (MBEI), with support from the UK's Department for International Development (DFID) through the DaNa Facility. The report is a diagnostic tool for government and the private sector to better understand the local business environment. It aims to provide the authorities at different levels with evidence to pursue decentralised economic governance reforms. Based on a nationwide survey of 4874 businesses in the services and manufacturing sectors, the MBEI reflects the feedback from private enterprises across the country. The study measures ten components of good economic governance and provides insights and analysis that government may use to further improve Myanmar's business environment.
The key findings are:
85pc of Myanmar businesses have at least one documented proof of formalisation; in most cases it is an operating license from the township or City Development Committee. Regulation and administrative procedures for businesses after they have become legal to operate are not burdensome by international comparison; many SMEs in Myanmar are in sectors that could be impacted by environmental harm and therefore show a strong preference for a clean environment. Recruitment of qualified workers, particularly technicians and managers, is a major challenge for businesses in Myanmar. Quality of infrastructure is a severe concern for businesses, particularly with respect to road and electrical infrastructure. Critical documents for business planning, such as local budgets, are often unavailable to the average business owner.
Source: Myanmar Times