Kachin State Inks Border Business Park Deal With China-Myanmar Joint Venture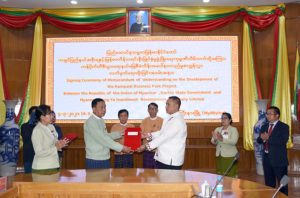 The Kachin State Government and Myanmar Heng Ya Investment Development Co. Ltd signed a Memorandum of Understanding for developing the Kampaiti Business Park.
U Wei Lin, Kachin State Minister for Finance, Revenue, Planning and Commerce spoke about implementing the business park project in line with the existing law. He also discussed matters related to job creation, trade promotion at Kampaiti gate, cooperation to combat illegal trade, and business opportunities for local people.
The Kampaiti gate is one of the border checkpoints between Myanmar and China. A proposal to upgrade the border gate was approved by the Kachin State government at the second state meeting's 18th regular session. The Myanmar Heng Ya Development Company is a joint venture between Kampaiti Development Company and the Yunnan-Teng Yin Trading Company.
At an estimated cost of US$22.4 million (31.85 billion kyats), the Kanpiketi Business Park will cover nearly 70 acres (28 hectares) in the border town in northern Kachin State's Special Region 1. The area is controlled by the New Democratic Army-Kachin (NDAK) militia, which is allied with the Myanmar military.
The business park project includes plans to construct a South Asia-Southeast Asia Culture Park (Zone A) on 12.65 acres, two Trade and Logistics Zones (Zones B and D) on 8.8 acres and 12.7 acres, a Border Inspection Gate (Zone C) on 5.1 acres and a Business Shop (Zone E) on 1.65 acres.
The joint venture company will implement Zone C first. It will include a border inspection gate, government staff housing, a waiting area and related facilities. The company plans to invite other investors to construct the other zones.
Between 1 October and 21 February of the current financial year, Sino-Myanmar trade at Kampaiti gate soared to US$141.24 million from $73.97 million in the year-ago period, according to data released by the Commerce Ministry.
Source: The Irrawaddy News Magazine